Our motto :
"It's not about politics, it's about caring!"

At Free-Will, we mean to address important social and political contemporary issues that are not usually properly covered in the mainstream media and that we feel deserve a new, in-depth and unbiased approach to help promote truth, justice and human-rights. Our ambition is not so much to preach to the believers as it is to awake the general public to the better taste of healthy controversies, entertain them in a meaningful manner in the belief that challenging and relevant analyses make better food for the mind than conservative and short-sighted assumptions. Our intent is to be both fast- pace informative and resolutely entertaining, always unbiased and sometimes provocative.
Gerard Ungerman :
With a background in written and photo journalism and several years as an officer in the infantry, Gerard started Free-Will Productions with his wife Audrey Brohy in 1995.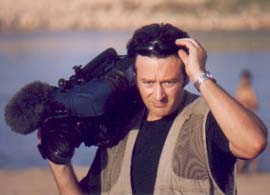 Combining military-inspired efficiency and an acute sense of justice, he has ever since been exclusively producing and directing video-documentaries among which "Peru: between the Hammer & the Anvil" (an AFI award-winner broadcast throughout Europe) and "Confessions of a New York Call-Girl". Education : humanities and economics.
Audrey Brohy :

Raised in Kenya and Thailand, Audrey, a Swiss native, has developed early in her life both a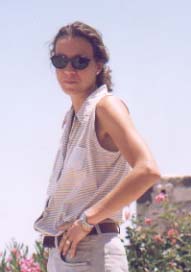 strong interest for social and political matters and a keen artistic eye that first materialized in still-photography. After studying drama-art at Paris' renown "Conservatoire des Arts Dramatiques" and then film-directing at School of Visual Arts in NYC, Audrey started Free-Will Productions in 1995 with her husband Gerard and has ever since shared all tasks from pre-production to distribution.
Jason Stelzel :

Jason is not just a brilliant editor, a very talented musician or an ingenious programmer. He simply is a genius capable of improving any pieces of software or hardware and sometimes creating new ones so that to further expand his technical and creative abilities.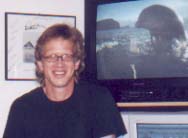 His areas of expertise span nonlinear editing as well as sound and light engineering as he has had an extensive experience at supervising many high-profile, big budget live and recorded multimedia and performing events. From show-business to the corporate world, his multiple clients have included Disney, Dolly Parton, Ozzy Osbourne as well as all the TV networks, Apple, IBM and virtually all the major car-manufacturers.
Fritz Heede :
A mesmerizing musical performer and composer, Fritz has been scoring memorable soundtracks for both fiction and nonfiction for over twenty-three years.
His style, both intimate and powerful, uniquely combines classical and modern influences from all over the world to create an ageless music that knows no cultural, political or geographical borders. Among his past achievements, his original soundtrack for the NBC-special "Mysteries of the Sphinx", produced by Robert Watts ("Indiana Jones", "Star Wars") won an Emmy Award.

Play/Stop Music
All Rights Reserved © 2001 Free-Will Productions